Mitsubishi Lancer.
For the young and young at heart.
A favourite for over 20 years, Mitsubishi Lancer is more than just a trend. Whether you're attracted to the youthful ES Sport, the classy LS or the athletic GSR Sportback with more power, bigger wheels and sportier suspension, there's a Lancer for you.
Interior

Features
EVERY TIME YOU CLIMB INSIDE LANCER YOU'LL BE WRAPPED IN COMFORT.
Lancers are sporty, yet refined inside. ES Sport and GSR models offer a sporty interior while the LS model provides elements of luxury. Combined with technology at your fingertips, you'll be wrapped in a feeling of space and comfort every time you get behind the wheel of your Lancer.
Lancer LS model shown
View Inventory
Book a Test Drive
Interior Features
RAIN SENSING WIPERS AND DUSK SENSING HEADLAMPS
Lancer LS and GSR models are equipped with front wipers that activate automatically when moisture is detected on the windscreen. Dusk sensing headlamps also automatically illuminate in fading light or when travelling through a tunnel, allowing you to keep your hands on the wheel and our focus on the road ahead.
Lancer LS and GSR models only.
View Inventory
Book a Test Drive
Exterior

Features
LANCER IS ONE GOOD LOOKING CAR.
Lancer's front grille creates a strong and confident statement, with modern LED Daylight Running Lamps (DRL) and front fog lamps. Chrome ascents and 18" 15-spoke two-tone alloy wheels on LS and GSR models create a sleek and stylish profile.
Lancer LS model shown.
View Inventory
Book a Test Drive
Lancer

Black Edition

The Mitsubishi Lancer Black Edition is packed with power and attitude. As the name suggests, the Lancer Black Edition features a sleek black roof panel, 18" alloys, black rear spoiler, along with sports suspension with a rear stabiliser bar. Inside you'll find black leather components all set off by premium red stitching. With only limited numbers, expect the newest edition to the Lancer stable to disappear fast.

Limited stock. While stocks last.

View Inventory Book a Test Drive
Performance

Features
LANCER'S POWER MATCHES ITS SPORTY LOOKS.
The MIVEC 2.0 litre MPI petrol engine in both Lancer ES Sport and LS models deliver strong responsive city driving combined with impressive fuel economy, having 107kW of power and 194Nm of torque.
Lancer GSR steps it up with a 2.4L MIVEC MPI petrol engine delivering a sizable 121kW of power and 219Nm of torque.
View Inventory
Book a Test Drive
Performance

Features
INTELLIGENT TRANSMISSION
Automatic Lancers are equipped with a Continuously Variable Transmission (CVT) with sports mode, which has infinitely variable gear ratios. This maximises power and economy and helps to ensure a smooth, stable ride with seamless gear changes, allowing the engine to always operate at optimum RPM, irrespective of the vehicle's speed.
Lancer ES Sport and GSR models are also available with a 5-speed manual transmission with inter-lock clutch control.
View Inventory
Book a Test Drive
Lancer Range
lancer ES
Key Features:
2.0L 4cyl DOHC 16 valve MIVEC
Climate control air conditioning
Reverse camera
LED Daytime Running Lamps
16" 10-spoke two tone alloy wheels
Digital Audio Broadcast (DAB) radio
GSR Sportback and Sedan
Features additional to ES:
2.4L 4cyl DOHC 16 valve MIVEC
Sports suspension and stabiliser bars
18" 15-spoke two tone alloy wheels
Leather bound steering wheel & gearshift
Paddle Shift (CVT only)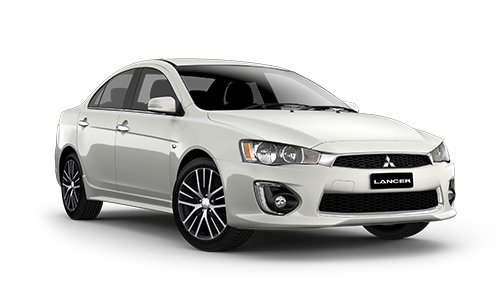 lancer LS
Features additional to GSR:
Reverse parking sensors
Automatic rain and dusk sensors
Smart Key
Leather seat facings
Power driver seat & heated front seats
Privacy glass